News >> Nesmuk knives for sale!
Only now – 7-18 of December MyGoodKnife store has discounted prices on best chef knives in the world – Nesmuk knives!
Nesmuk Janus series knives are made of high-performance steel with niobium content refined with a high-quality DLC (diamond-like carbon) coating that offers extraordinary cutting performance and toughness.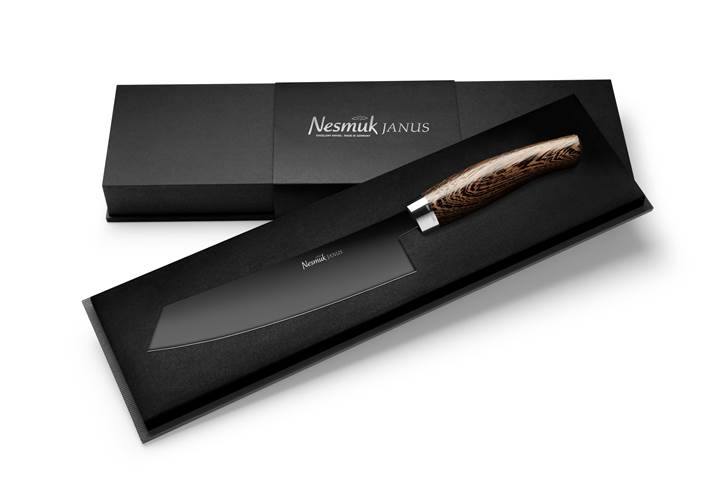 The Nesmuk SOUL's series blade design, outstanding cutting performance and balance between sharpness and useful life perfectly reflects the "essence" of this type of knife. The blade made of rust-proof high performance steel containing niobium for excellent edge retention and strength, as well as a very fine cutting edge and sharpening angle. SOUL knives guarantee optimum quality and workmanship.
The Nesmuk EXKLUSIV series with cutting edge is a masterpiece that is hand-crafted at forge by Nesmuk bladesmiths. It takes focused concentration over a period of many hours and, in some cases, days to produce the very fine black cutting edge in the best carbon steel below the wild Damascus. The Nesmuk EXKLUSIV with cutting edge has a Rockwell hardness of 64–65. The Nesmuk EXKLUSIV Full Damascus consists of up to 480 layers of selected carbon steel. It is distinguished by its double-sided hollow-ground blade with the finest cutting edge, an elegant wild Damascus pattern and a Rockwell hardness of 62.
Each Nesmuk knife is shipped in a high-quality, matte box.
Special low prices for Nesmuk knives in MyGoodKnife store are available only till 18.12!