Reviews and articles >> Hunting knives Marttiini Martef with orange handle
Marttiini Martef hunting knives now available with orange handles. Martef-coated hunting knives are excellent tools for hunters. The dirt and moisture repelling Martef coating reduces friction to almost zero whilst protecting the blade against corrosion. There are 4 Marttiini Martef knives available with orange handle.
1. Marttiini Martef Carving knife. This knife works like a dream for both cutting and butchering meat. The familiar handle design is combined with a stainless blade suitable for cutting meat, which is coated with Martef to reduce friction and make your cutting chores easier. The leather sheath is practical for carrying the knife with you on your hunting trips.


2. Marttiini Martef Skinning knife with hook. The skinning hook is an excellent tool for opening deer. The hook at the back of the knife helps to open the animal without touching internal organs, whilst the round shape of the blade ensures that the hide comes away cleanly and intact. The hook can be sharpened with a pen type sharpener (such as the Marttiini diamond sharpener pen). The orange rubber handle and finger guard ensure user comfort and safety. Due to the sharpening angle of the stainless chrome steel blade, the knife can be used as a normal knife. A true multi-purpose knife for hunters.


3. Marttiini Martef Skinner. The Skinner Martef knife is the most frequently sold knife in the Hunting series. The blade is produced from stainless steel and by design it is excellent for both skinning game and for carving. The textured orange rubber handle and the finger guard ferrule ensure a good grip in demanding conditions. The knife is supplied with a black leather sheath.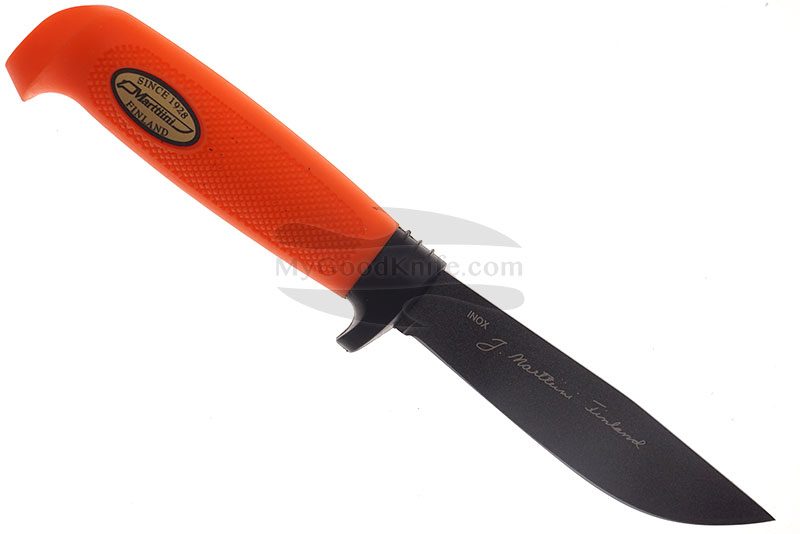 4. Marttiini Martef Big Game. Big Game Martef is an impressive knife for dealing with the carcasses of large animals. The handle of the knife is larger than usual, so it fits perfectly in a bigger hand and offers an improved grip. This knife also features the safe textured rubber handle and the finger guard.