Nesmuk Janus knife is available for test cutting in our offline store. And yes – test for free.
There are about 30 production steps to make Nesmuk Janus ready to you.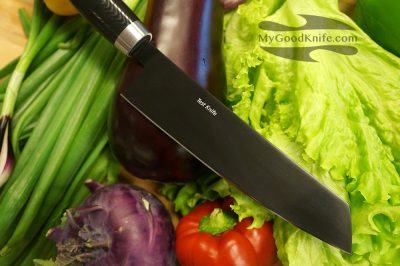 Star chefs often wait patiently for months for their knives to be forged, or even travel personally to Solingen to purchase the Nesmuk knife.  For example, chefs Eckart Witzigmann (who received the rare award Chef of t…he century) and Dieter Mueller (culinary legend of Germany) have their own edition of Nesmuk Janus – model, which you can test in MyGoodKnife show-room.  Frank Rosin – chef of restaurants «Michelin Star» and his executive chef are also completely convinced with Nesmuk Janus.  The Austrian candidate of the European Bocuse d'Or final in Budapest – Kevin Micheli – was fitted by Nesmuk Chef´s Knife and Slicer for the competition. His opinion about the knives: they are indescribable.
The Nesmuk JANUS 5.0 combines Nesmuk's knife-making skills and many years of experience with state-of-the-art materials and production methods. High-quality DLC coating (diamond-like carbon; a 3 μ thick, amorphous carbon coating containing silicone) delivers impressive hardness (2,300 Vickers), low friction values and high adhesive strength.
The blade is made of stainless, high-performance steel containing niobium. It provides the blade's steel with a very fine structure in spite of being stainless and offers long-term edge retention. The brushed stainless steel collar and the finest micarta handles emphasise the outstanding quality of these handcrafted knives.
Today you can come to MyGoodKnife show-room, make your own test of Nesmuk Janus and confirm opinions of the best chefs in the world.