Santoku Japanese kitchen knife Global 13cm GS-37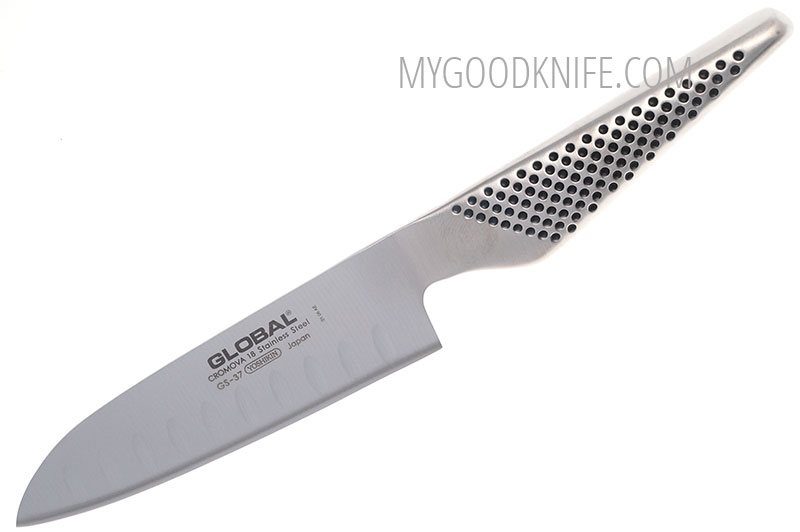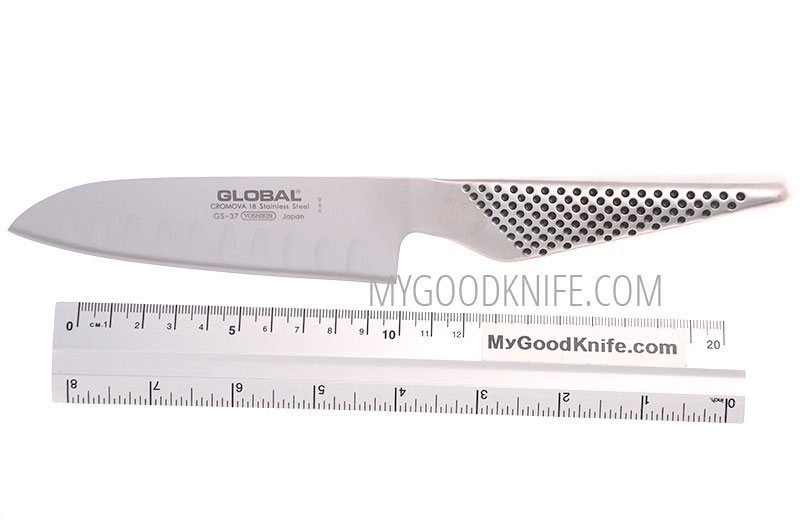 The GLOBAL GS Series is a series of knives with comparatively short blade lengths, such as petty knives and paring knives. Features of these knives in this series are functionality that satisfies professional users, and a wide variety of products.This knife is a small, all-purpose knife. It can be used for cutting meat, vegetable and fish. The knife has a groove allowing effective separation of foodstuff from the blade.
Global
4943691737007
240 mm
130 mm
3 mm
Global
A thousand years ago, Japanese swordsmiths developed the high art of sword making to provide strong, sharp blades for the Samurai, the feared warrior caste. Today, continuing the Samurai sword tradition, Japanese craftsmen are producing knives of the highest quality Global knives are manufactured by Yoshikin in Niigata, Japan.
Global kitchen knives were first designed in 1985 by Komin Yamada. When Komin Yamada was commissioned for this task his mandate was to develop a range of knives that was truly new and revolutionary, using the best materials available and the latest manufacturing techniques. He was to fashion a series of kitchen knives which would appeal to the professional and amateur chef alike, be comfortable and easy to handle, and meet their most demanding requirements.
Global knives are made from the finest high carbon stainless steel available for producing professional quality kitchen knives. Yoshikin uses its own proprietary stainless steel called CROMOVA 18 Stainless Steel and this material has been designed exclusively for Global knives. This steel is hard enough for Global knives to hold the steep, acute cutting edge and keep their edge for a long time…but soft enough so that it is not too difficult to sharpen them. The CRO in CROMOVA 18 stands for chromium and the 18 is the percentage of chromium in the steel. This high percentage of chromium contributes to Global's excellent stain resistance. Care should be taken to keep your Global knives stain and rust free. To learn how to care for your Global knives, please click on the Care Guide button above. The MO and VA in CROMOVA 18 stand for molybdenum and vanadium and these are two metallic elements that give a knife good edge retention.
It is often asked why Global knives stay sharp so long without sharpening. The combination of the elements molybdenum and vanadium is one reason, but also refer back to the diagrams above of the straight edge vs. the beveled edge. Now take a piece of paper and gradually push it up your screen, slowly covering the tips of the two edge types, simulating the knives getting dull after use. Even as the Global straight edge gets dull it is still much thinner, and, therefore, much sharper than the knife with the beveled edge.
You have not viewed any product yet.
Quick shipping

We ship worldwide! Orders placed on business days before 14.00 Finnish time, we sent on the same day. Free shipping for orders over 100 euro!

Easy payment

MyGoodKnife offers several payment options for your purchase: credit card or direct payment to bank account.

Secure shopping

MyGoodKnife is secured with SSL (Secure Socket Layer) certificate by Thawte. Our webshop is encrypted with 128-bit SSL protection. When you move to the payment pages, your payment transaction is completely secure!

Customers support

Contact our customer service via live chat, e-mail or contact form. We do our best to answer all requests in nearest time.

Return & Refund

EU customers have the right to cancel order within 14 working days of delivery and return goods for a full refund (except cost of shipment).The goods must be return in saleable (unused) condition including package.