Throwing knife United Cutlery Black Ronin, set of 3 pcs 8cm UC2802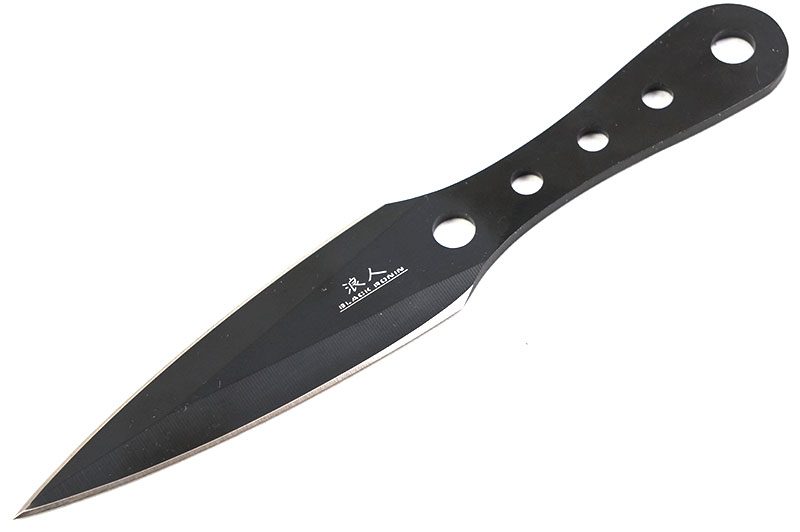 Triple the excitement with this three-piece Black Ronin Triple Bolt throwing knife set. Each thrower is constructed of AUS-6 stainless steel. The 6 1/2" throwers are great for everyday practice and really sail through the air. Includes nylon sheath to hold all three throwers.
United Cutlery
United Cutlery aloitti varsinaisen toimintansa vuonna 1984. Aluksi United Cutlery oli erikoistunut urheilu- ja retkeilyveitsien valmistamiseen. Sitten yhtiössä alettiin kehitellä uudenlaista tuoteryhmää, jonka idea perustuu USA:n arvostettujen brändien tuotemerkkien käyttöön. Vuonna 1990 yhtiö sai yksinoikeuden käyttää veitsissään taistelu- ja urheilukäyttöön tarkoitettuja ampuma-aseita valmistavan Coltin logoa. Sittemmin se hankki lisenssit Ford Motorsilta, Harley Davidsonilta, UZI Firearmsilta ja useilta muilta arvosteluilta yhtiöiltä. Seuraava mielenkiintoinen vaihe yhtiön kehityksessä tapahtui, kun se alkoi valmistaa korkealaatuisia veitsiä ja puukkoja, jotka olivat tarkkoja kopioita Hollywoodin menestyselokuvien sankareiden käyttämistä veitsistä. Kaikki alkoi Rambo-veitsestä, jota seurasivat Zorron, Indiana Jonesin, Terminatorin yms. käyttämät veitset. Virta on toki vienyt toiseenkin suuntaan: United Cutleryn tuotteita on käytetty useissa elokuvissa, joista mainittakoon esimerkiksi Babylon 5, Salaiset kansiot, Buffy, vampyyrintappaja, Gladiator, Kaappaus merellä, Puuttuva tekijä ym. Kannattaa muistaa myös Taru sormusten herrasta. Siinäkin käytettiin United Cutleryn veistä, joka sitten tuli myös yleiseen myyntiin.
Kahdessakymmenessä vuodessa United Cutlery Corporation on kasvanut vaatimattomasta haarayhtiöstä suuryritykseksi, jonka tuotevalikoimaan kuuluu upeita, uusimman huipputeknologian menetelmin valmistettuja veitsiä sekä omaperäisiä, eksoottisia ja muotoilultaan uskomattoman kauniita tuotteita
You have not viewed any product yet.
Shipping costs to your country (United States (US))
EMS with tracking number, 3-9 days
28 €
Free Worldwide Shipping for orders over 100 EUR
Quick shipping

We ship worldwide! Orders placed on business days before 14.00 Finnish time, we sent on the same day. Free shipping for orders over 100 euro!

Easy payment

MyGoodKnife offers several payment options for your purchase: credit card or direct payment to bank account.

Secure shopping

MyGoodKnife is secured with SSL (Secure Socket Layer) certificate by Thawte. Our webshop is encrypted with 128-bit SSL protection. When you move to the payment pages, your payment transaction is completely secure!

Customers support

Contact our customer service via live chat, e-mail or contact form. We do our best to answer all requests in nearest time.

Return & Refund

EU customers have the right to cancel order within 14 working days of delivery and return goods for a full refund (except cost of shipment).The goods must be return in saleable (unused) condition including package.