Finnish knife Marttiini Winter Night Annual Knife 2020 13cm 240019C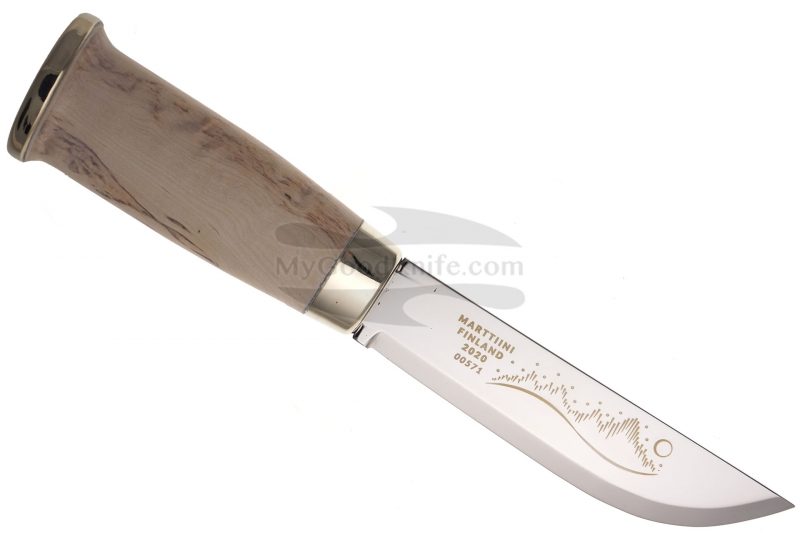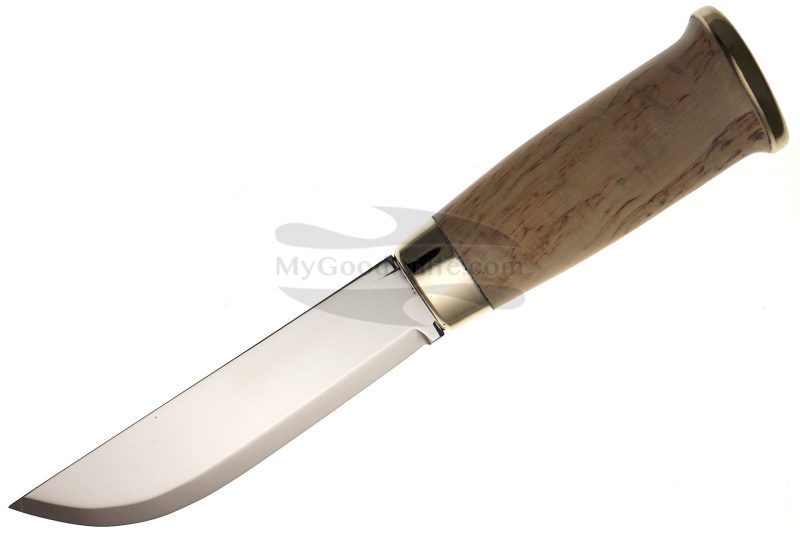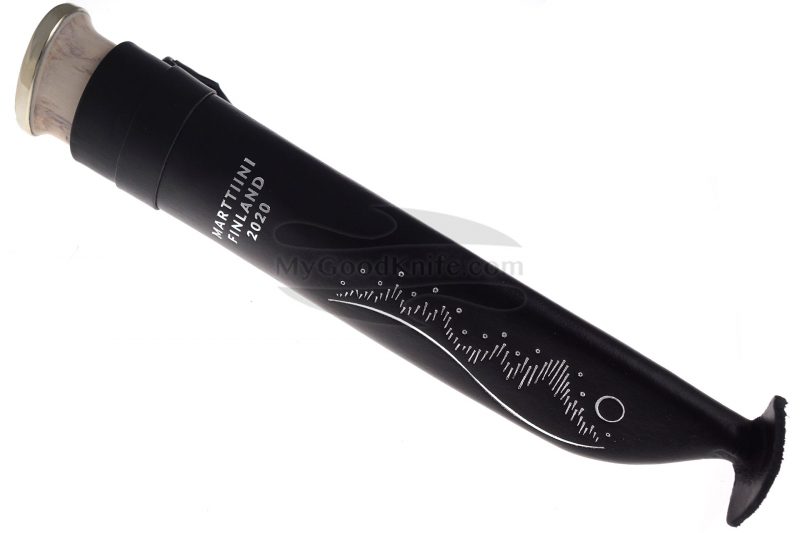 NEW! Marttiini Annual Knife 2020 will perpetuate the contrasts of the polar night. The arctic winter night is magical. It's dark, yet full of enchanting glare. The moonlight glows on the white snow blanket, with the northern lights shining in the black sky. The race of light and the shadow have been immortalized in the black and white look of our 2020 annual knife. The knife's handle made of white waxed birch with a bright chrome blade and black leather sheath reflects the contrast of the northern winter night. The model of the knife blade is a classic Lapp knife. A gorgeous and decorative knife is a good, practical gift for a lover of Finnish design. Each knife is individually numbered. Delivered in a gift box with window.
Marttiini
At Marttiini, experience in production, professional skills and firm handicraft traditions that have been refined over the course of generations, are combined with carefully chosen materials, contemporary technology, computer aided design and afficient serial production.
As result of open-minded solutions, a knife that is correctly maintaned will serve its master during the latter´s entire lifetime.
The Marttiini knife factory has a long tradition in combinig handicraft skills and practical needs. For people in the arctic region, a knife has always been an important means of survival in harhs conditions. Knives were necessity in collevting firewood and making a fire, making tools and implements, construction, hunting, fishing and preparing the kill for cooking and eating.
Nobody left home without a knife: many wanderers were saved by the knife on their belt which they used instead of an ice pick if the ice broke and the wanderer ended up in the cols water.
Knife handling was learned at an early age. Knives were produced for men, women and minors so that the knives would suite the user´s size, strenght and purpose of use. Knives ment to be worn at festive occasions alongside Sunday-best clothing are equipped with nicely desorated sheaths, handles and ferrules.
Marttiini knives have always been designed with their purpose and user in mind. The correct handy tool for the right purpose. Stylish design also plays an important role in the planning and production of handicraft tools.
Professional skills and long experience are not just felt but also seen.
You have not viewed any product yet.
Shipping costs to your country (United States (US))
EMS with tracking number (incl.50% discount), 3-9 days
14 €
Free Worldwide Shipping for orders over 100 EUR
Quick shipping

We ship worldwide! Orders placed on business days before 14.00 Finnish time, we sent on the same day. Free shipping for orders over 100 euro!

Easy payment

MyGoodKnife offers several payment options for your purchase: credit card or direct payment to bank account.

Secure shopping

MyGoodKnife is secured with SSL (Secure Socket Layer) certificate by Thawte. Our webshop is encrypted with 128-bit SSL protection. When you move to the payment pages, your payment transaction is completely secure!

Customers support

Contact our customer service via live chat, e-mail or contact form. We do our best to answer all requests in nearest time.

Return & Refund

EU customers have the right to cancel order within 14 working days of delivery and return goods for a full refund (except cost of shipment).The goods must be return in saleable (unused) condition including package.